Louisa
General
NutriAesthetics by Dr Louisa Yim
"Look at you. I want to have skin like you!"
A lot of my clients have commented how my skin glows without flaws.
Contrary to what they believe, I can't say I have the perfect skin. I have wrinkles. I have aged spots. The fact that I have given birth to a beautiful girl seven months ago, these pigments have darkened tremendously. Did I also mention I have adopted twin panda eyes from the sleepless baby? Motherhood is great, don't get me wrong, but I must say, I do miss my beauty sleep.
I am blessed with the Asian DNA and I am greatful for the wisdom that has been passed onto me from my parents, grandparents and Chinese Ancestors.
So what's the secret?
It's simple. You are what you do and what you eat.
Let's try to put it in an equation:
Healthy Skin = Food you consume + Skincare you apply + Exercise
Let's face it. We have to be realistic and age appropriate. We cannot guarantee you looking forever twenty-one. These days everybody is time poor and wants a quick fix. Do keep in mind that quick fixes cannot reverse the aging process that has already began many years ago and continues daily. One needs to be persistent and ongoing maintenance plus home care. Start your beauty regimen early. Beauty therapists and Cosmetic physicians are people full of skin knowledge. Use us wisely and let us guide you what works best for you to having healthy skin.
Over the next few weeks, I will be sharing some Chinese wisdom on skin nutrition with you. Believe it or not, I have been introduced to all these wonderful skin food since I was a baby, thanks mum!
Part one of Chinese Wisdom on Skin Nutrition: Edible Bird's nest
No. We don't destroy homes.
No. We actually don't eat the whole nest.
Edible Bird's nest is also known as the "The Caviar of the East". The edible part is actually from the saliva of the birds, acting like the glue sticking the branches and twigs into a bowl-shaped nest. During the breeding season of small swallow birds, the parent birds build the nest to care for the young. Once the littlies learnt how to fly, these nests will be deserted. Nests are usually harvested in coastal caves of South East Asia.
In traditional Chinese medicine, Bird's nest is known for its Neutral energy, i.e. neither heat nor cold, for treating certain airways diseases, such as bronchitis and asthma. It is also used in preventing degenerative diseases. Bird's nest is mostly made up of glycoprotein and an excellent source of epithelial growth factors. Epithelial growth factors, as we known, help to regenerate, renew and rejuvenate skin cells.
To read more about the history of Edible Bird's nest, view here: http://www.flavorandfortune.com/dataaccess/article.php?ID=672
I would recommend not preparing the bird's nests yourselves, as it can be quite tricky to do so. The process includes buying genuine and high quality bird's nests, cleaning, soaking and double boiling with rock sugar.
There are different brands of commercially prepared products found in Asian Grocery stores. They are usually located behind the front registers, costing about $60 for a pack of six small jars 68g each (bird's nest concentration 1.7%) or $75-$80 for a concentrated jar (bird's nest concentration 92.5%)150g. I would recommend trying the small jars, even though it is not as concentrated. Taken daily for maximal benefit or spacing it out for twice a week.
I consumed once a day for 3 months after I delivered my little girl. I do believe that it has helped to speed up the healing process (I had a Caesarean Section) and increasing the breast milk supply. The bird's nest is jelly like texture and usually served at room temperature as a dessert drink. You can also find unsweetened version if you are concerned about the extra calories.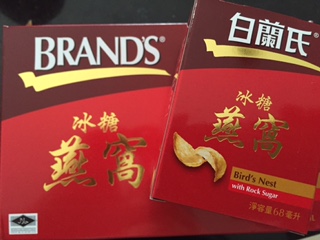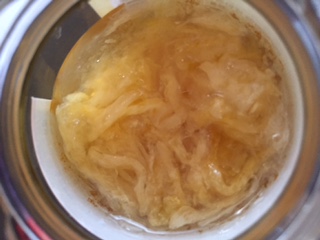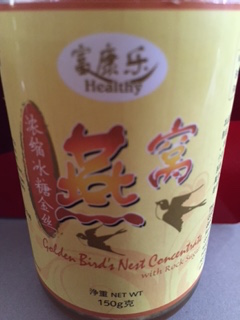 These make perfect gifts for new mothers and also those who are recovering from major surgery. A word of caution, edible bird's nest is not recommended for those with kidney disease due to its protein load.
For your information, Total Bliss has two types of topical epithelial growth factors:
Osmosis MD Stemfactor
OCosmedics Stem Cell Booster
Combining stem factors both internally and applying on the skin externally will definitely help to repair and renew damaged skin cells from environmental toxins, inflammation and excessive sun exposure.