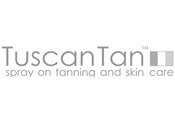 Quality is of paramount in the development of the Tuscan Tan product range. Tuscan Tan has always been under strict manufacturing guidelines to ensure high quality control for consumers.
Established by Samantha and Michael Fitzpatrick in 2003, Tuscan Tan offers a complete solution when it comes to spray on tanning and skin care.
"Our goal was to develop an authentic looking spray on tan that would mimic naturally tanned skin tones with 100% accuracy. We were very particular about the colour we wanted, being that of an olive toned European looking skin. It was worth our efforts as we achieved our goal. We called it Tuscan Tan as a salute to the European looking tan that we created." - Samantha & Michael Fitzpatrick.
We are so thrilled to be partnering with Tuscan Tan. They have fantastic after sales support and customer care. Our new Tuscan Tan system allows our customer to choose between the standard 8-hour or rapid 4-hour tan.